2019 School Songwriting Competition
Over 300 children performed from 10 different schools to a packed house at the White Rock Theatre.

For the first time, we introduced an Oscar-style awards ceremony with lots of nominees and categories as a way of appreciating effort. It created a lot of extra work for the judges and compere but was well worth it as the children raised the roof with lots of cheers. "My children were still buzzing the next day."
Thank you to all the schools who performed this year and all the hard work put in by teachers and pupils. It was amazing, with some fantastic varied songs around the theme of 'Summer'. And there were some incredible performances, with dancing, props, instrument playing. It was fantastic.
Primary Winner
Guestling Bradshaw
Secondary Winner
Cold Hearted
Category Winners
Best Lyrics – St Thomas
Best Lyric Line – Ore Village
Best Performance –  Christ Church
Best Arrangement  – Guestling Bradshaw
Catchiest Chorus – Robsack Wood
Best Lyrics
St Thomas – Good use of adjectives and imagery throughout. Westfield – A song with great sentiment. Ore Village – Really good rhymes, structure, and words over a day in the life of a camp trip. Purely Grey – The rhyming, scanning and metaphors between the beach/relationship were great.
Standout Lyric Lines
Cold Hearted – "Seagulls nick my doughnut". Ore Valley – "Creatures crawling up my knees". St Thomas – "Wouldn't it be horrid if they just weren't there". THA – "Sunflowers in Black and White"
Best Arrangement
Westfield – Great groove and funky appeal. Guestling Bradshaw – A big range of notes with good melodic interest, rhythmic breaks, a good ending, and good contrasting sections. The Baird – We liked the drum intro and the graded entrance phrase. It was a nice touch for the bridge to change the emotion and add a bittersweet feel. Silverdale – This was a good pop style song with a great summer feel and catchy chorus. Cold Hearted – Good instrumental breaks and chorus hook
Catchiest Chorus
Guestling – A very jolly and happy chorus. Christ Church – '54321 we're having fun' was very catchy. Robsack Wood– A gorgeous melody and tight rhythms. The Baird – A great message and a nice two-part arrangement in the last chorus. Ore Valley – We liked the contrast between the long notes in the chorus and the quick verses.
Best Performance
Christ Church – A really good catchy and melodic song with a great performance full of great props and costume co-ordination. The percussion breaks and chanting '54321 we're having fun" made it special. Guestling Bradshaw – "I felt I was at the beach". A confident, energetic, jolly and happy performance with good routines, added interest with a beatboxer, nice shouty bits, and a zany pianist. Westfield – "This performance felt like a 'clan'." The dance moves, gymnastics, breakdancing and funky backing were great. Silverdale – This was a really good all-around solid and fun performance by the whole class. We really liked the hand moves, the good summery feel, and the great drummer. Cold Hearted – They put in a performance which had the audience rocking in their seats. The drummer was a great speaking/singing lead producing hilarious punk, with good instrumental breaks and chorus hook.
Roz Adie and The Baird
Roz epitomised the competition and set a wonderful example. She is head of Pupil Premium at The Baird. She had no musical background. She attended the training workshops, worked with her children to produce lyrics and then melody. She then opened out the song to the whole school, with over 60 children joining in. And she conducted the choir on stage at the White Rock Theatre.
"After just a few weeks of learning, her rhythm had come in and she did a fantastic job conducting the children on stage." Anna Page, Songwriting Support.
"The children were so proud of me getting this award. It was lovely to see their enthusiasm and they loved the whole process." Roz Adie.
Compere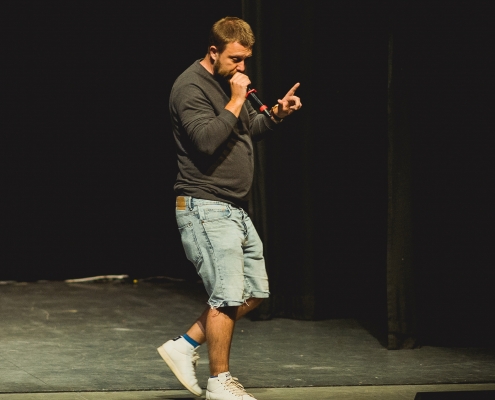 Jonny Morris, Hastings Thrives Trustee and Principle of Silverdale Primary Academy
Hastings Direct
We are very grateful to Hastings Direct for sponsoring the 2019 Competition. Their unconditional support meant we could cover a lot of our background and extra costs such as a professional photographer, videographer, trophies and certificates, posters, programme and banner.

Hastings Lions
Hastings Lions, organisers of the Hastings Half-Marathon have supported us from the very beginning and we are very grateful for their continued support. They enabled us to pay for schools who want it to have their songs recorded.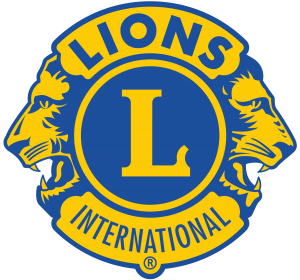 Hastings Round Table
They host the Hastings Beer and Music Festival and we are very grateful for their donation which helped provide free tickets for families in need.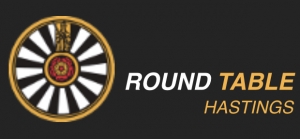 Blue Spark Foundation
The Blue Spark Foundation enabled us to provide songwriting support into schools.

Roy Hudson Trust
The Roy Hudson Trust who enabled us to provide songwriting support into schools.
Lucy Tate Trust
The Lucy Tate Trust enabled us to run songwriting continual professional development workshops for teachers.
Ann Rachlin & Iain Kerr
They made a kind donation towards the cost of songs being professionally recorded.
Link to: Support us
Ore Village Newsletter
Extolling the virtues of health and wellbeing of singing together and wishing everyone well.
Follow a manual added link
Hastings Observer