Changing Chances aims to improve the life chances of young people exhibiting challenging behaviours. We work with the wonderful educator Kit Messenger.
Anna Page has a Masters Degree in songwriting and works with us on training and support.
Jamie Harris
Jamie Harris is a local drummer and songwriter. He has a long history of working with people with disabilities. He has provided support into schools for us.
Aspire
Suzie Dunster and Becky Knight are performing arts teachers at St Richards Catholic College, Bexhill.  They ran our first inclusive summer holidays performing arts workshop, aimed at improving confidence.
Our 2018 Sky Parade joined the St Leonard's Festival, organised by 18Hours. This year we are engaging with the 2019 Storytelling Festival organised by 18Hours.
Hastings Imagination Library
This is a new collaboration with Hastings Imagination Library as part of our pre-school work. They provide free books for 0 – 5 years.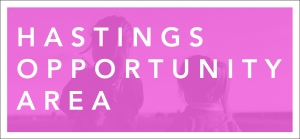 Hastings Opportunity Area funded our summer musical theatre course and are helping us to develop our songwriting in schools.
Hastings Borough Council gave start-up support and Kevin Boorman continued to give support, attending meetings and events.

Radiator Arts ran our Sky Parade training and support in schools, and Exbibition in the Stade.
Ed Boxall was instrumental in setting up the Songwriting Competition and supported the Sky Parade and Exhibition.
School Songwriting Competition Judges
If you would like to discuss collaborating with us, please contact us and we can take it from there.